Trenton Punk Rock Flea Market
my experience as a vendor
I attended the Trenton Punk Rock Flea Market (TPRFM) in Edison, NJ last Saturday (Sept 10), and this is how it went down….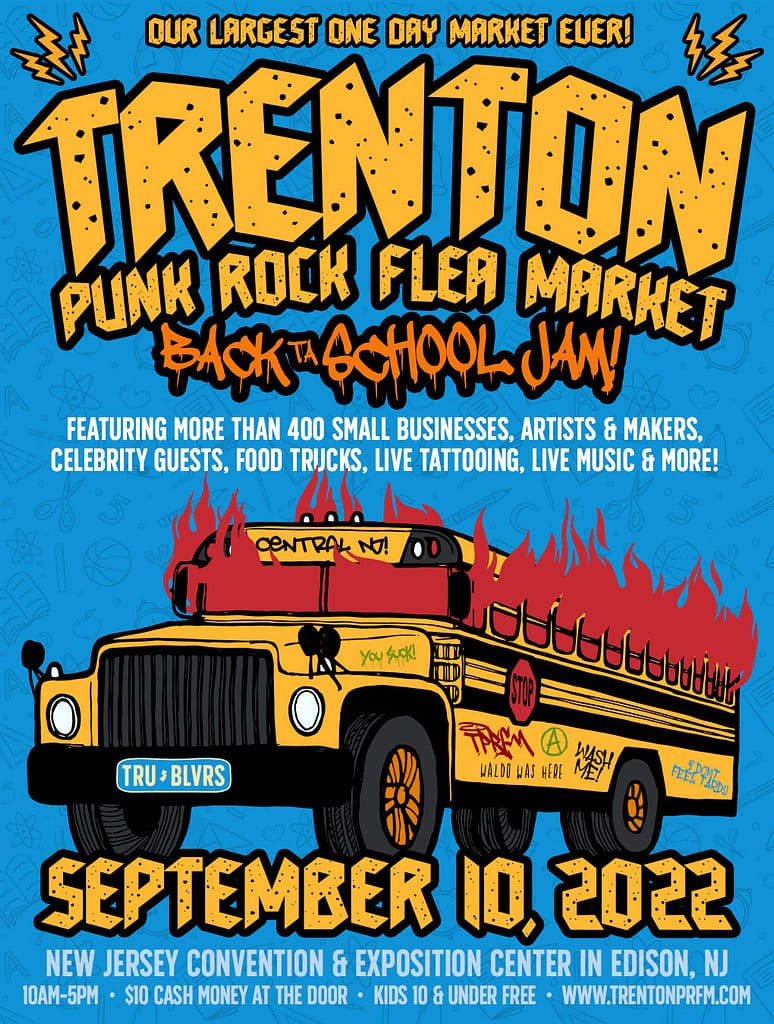 Highlights for the TL DR Crew:
It was extremely well organized
It was the biggest event I've done yet
There were not many artists (comparatively)
The vibes were excellent, vendors were diverse
I enjoyed it very much as a vendor and as a visitor
I did not make my table
I would like to go again as a visitor, but not ready as a vendor yet
Arriving/ Load In Experience
I was really anxious about how the arrival/load in process was going to go. They advertised over 400 vendors attending, and I was really worried it would be super messy, bumper to bumper, craziness! But, that's not what happened! There were multiple staff members outside helping to direct traffic for fast unloading in the back of the convention center, then an easy direct to the main parking area. I arrived and saw so many people running around, but the TPRFM crew waived me down and directed me with ease. When I walked into the loading dock with my items, they simply requested my last name, confirmed my business name, gave me a wristband and a map and it was on-
Super smooth, very clear, and infinitely easier than previous events.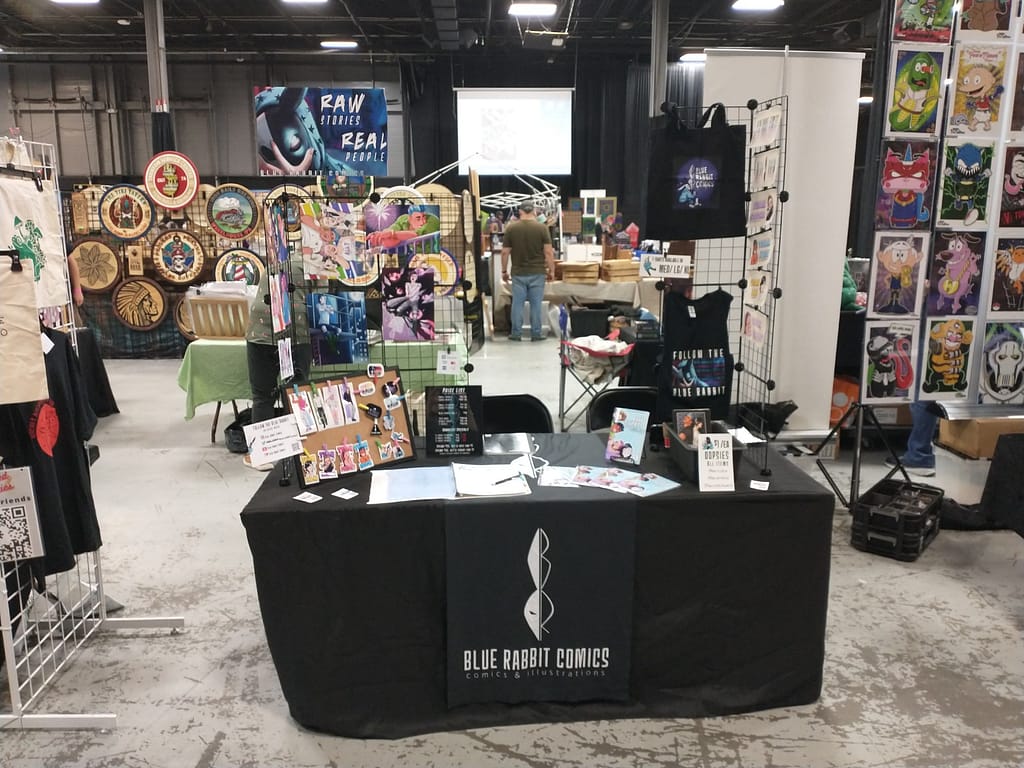 The vendors and the visitors
One thing that I enjoyed very very much about this event- the diversity of the vendors! There were SO MANY different things on offer! From a homemade pickle company selling pickles and hot sauce, to jewelry, to crystals and crystal sculptures, there was even a leatherworker! I really appreciated all the interesting items to see!
And to be honest, it also meant a lot less competition for me. I saw very few artists there, maybe four or five out of 400 vendors!
The vendors I spoke to were all very sweet folks, great to talk to, and very encouraging.
The visitors/participants were also pleasant! I identify myself as "punk" adjacent, so I enjoyed the aesthetics of the visitors who came! There wasn't anything like cosplay, but those who showed up gave me lots of inspo for Ian and Sacha outfits *wink*. I actually had more people come visit my booth without prompting than I did at the anime convention! While there were several folks who said they don't really read comics/webcomics, there is a big overlap (in my opinion/experience) of people who enjoy punk/alternative aesthetics and comics/anime/manga. That proved relatively true at this event as well! I met many lovely and interesting people that were vibing with my cause. While not everyone purchased something or signed up for my newsletter, I hope they check out my webcomic– since in the end, thats the goal!
The bells and whistles
This event had a lot of additional components that I greatly enjoyed! There were food trucks, live music, and LIVE TATTOOING! IT WAS SO COOL! And the food trucks were delicious! It was a lot more than just a selling market- which made the whole experience a lot more enriching!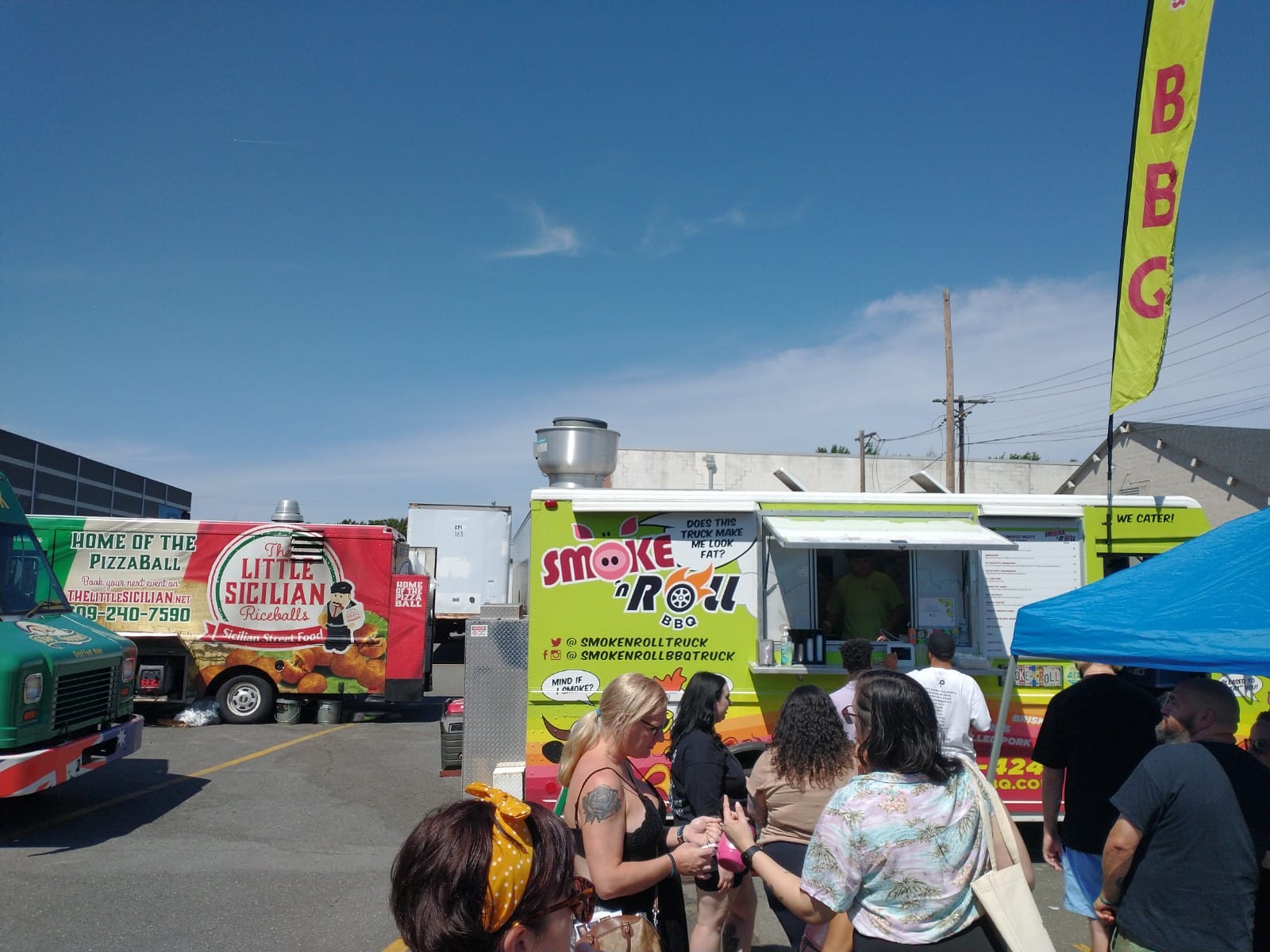 How I did as a vendor
Soooo… I didn't do too well, but I did better than my last shit show of an event. I did not break 100$, and my table was 155$, so that was a bit painful. I did come with only 8 comic books, which is my best seller, because I ran out of materials and didn't want to waste the money and effort to make more when they might not sell at this last event…but guess what? They sold out!
I might have been able to get one or two more comic book sales if I had brought more, but I sold my last one within an hour of the event ending…so I don't regret not bringing more. Fortunately they will be restocked on my website in the next month- so anyone who is still interested can get it there!
What's next
This is the end of my convention circuit this year. With all the loses I've taken financially, and big future spending coming up, I cannot rationalize more events this year. I will not be going to events next year either, for reasons I will disclose on my next newsletter post (be sure to subscribe!).
HOWEVER, I am still looking for new and unique ways to advertise my project. I have committed to ordering my Blue Shorts comic book from a wholesale printer going forward because…
I will be approaching local comic book shops to carry my comic!
I don't want to use handmade comics in this case, since I think uniformity is very important in these types of sales. However, I do intend to do limited "studio print" runs on future comics/books like I did with this one. I like the "collectible" aspect of it ;).
BY THE WAY- with existing inventory still hanging around- I've marked down my products on my shop (US shipping on prints and stickers is free) ! Since I won't be going to an event for a while, I don't doubt my style will change/improve by the time I'm back in the game…so I need to get the old inventory OUT! Check out the sale now, all proceeds go to the bulk order of my comic books and recouping my loses from this convention season!